Financial Consumer Relations Department (FCRD)
Financial Consumer Relations Department (FCRD) was established under the provisions of Section 33 of the Monetary Law Act No. 58 of 1949, as amended. Initially, FCRD will be serving as a single point of contact for receipt and dissemination of all external complaints directed by financial consumers of entities regulated by CBSL. Going forward, FCRD will focus on supervising standards of market conduct, review financial consumer protection policies in line with the local and international market developments and best practices, taking proactive and reactive measures with respect to malpractices, misconducts and identify and monitor emerging vulnerabilities in the financial consumer protection related issues.
The entities regulated by CBSL that comes under the purview of FCRD will be as follows.
Licensed Commercial Banks
Licensed Specialised Banks
Licensed Finance Companies
Specialized Leasing Companies
Authorized Primary Dealers
Participants of Payments and Settlement Systems
A Compliant against an entity mentioned above can be submitted via e-mail, post or fax to FCRD by downloading the Complaint Submission Form from the web link or QR Code given below.
https://www.cbsl.gov.lk/sites/default/files/fcrd_complaint_submission_form_e.pdf
QR Code:
Basic Rights of Financial Consumers
The Compliant Handling Procedure of FCRD is given below.
FCRD assigns a specific Complaint Reference Number (CRN), upon receipt of a complaint and an acknowledgment is sent to the primary complainant by FCRD with the respective CRN according to the preferred mode of correspondence.
The complaint is initially assessed by FCRD to determine whether to proceed with it.
The so assessed complaint based on the information provided by the complainant(s) is submitted for the consideration of the relevant financial institution and/ or other department(s) of CBSL, depending on the cause of complaint.
The relevant financial institution is required to provide a suitable response to the complainant in writing, directly within the stipulated time and inform FCRD of the action(s) taken to resolve the complaint.
The action(s) taken by the financial institution as informed to FCRD is reviewed by FCRD, if the primary complainant is not satisfied with the response provided by the financial institution. The primary complainant must submit the latest position of the complaint again for further consideration of FCRD, if she/he is desirous of FCRD to revisit the matter.
Thereafter, FCRD would direct the latest position of complaint along with the reviewed response with suitable comment(s) to the relevant financial institution for re-consideration to resolve the matter in concern within the stipulated time.
 If the action(s) of the financial institution in question is non-compliant with the legal and regulatory requirements about the complaint, relevant competent authority is informed to initiate necessary enforcement action(s).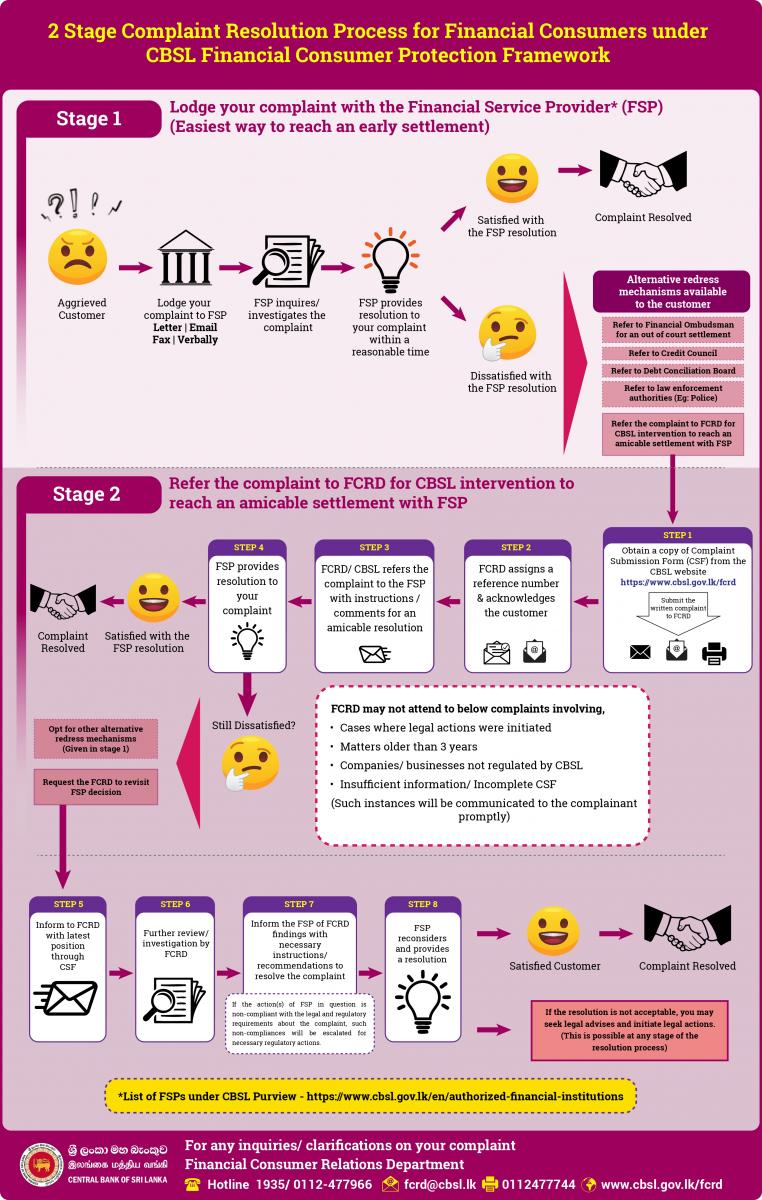 Postal Address
: Financial Consumer Relations Department,
  No. 30, Janadhipathi Mawatha, Colombo 01

Hotline for Inquiries

:

1935

Telephone
: +94 112477966
Fax
: +94 112477444
Email
: